Keller Cove Swim for Kids Sake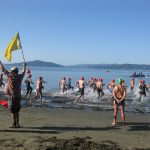 This open water bay swim is the 8th annual fundraising event to benefit the youth USA swim team ("Sailfish") program in the City of Richmond, based at the restored Richmond Municipal Natatorium ("The Plunge"). It will be held at Keller Beach, Miller/Knox Regional Shoreline, in cooperation with East Bay Regional Park District (EBRPD) who will provide water safety and lifeguard services for the event.
The event includes open water swim competitions for youth (ages 6 to 18) and adult swimmers, at ½-mile, 1-mile and 2-mile distances, wetsuit and non-wetsuit. This is the final event of the Pacific Masters 2016 open water swim season.
The proceeds from the event will be used to providing scholarships to inner-city and at risk youth throughout Richmond, pool rental fees, training equipment, and coaches' salary.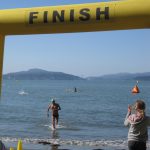 Since 2010 over 350 children have learned to swim with our swim team and grant funded swim lesson programs. Sailfish swimmers are competing at local and regional swim meets, and give back to the community by volunteering their time at local events and participate in beach clean up day and clean Keller Beach.
Schedule/Results
Details on the 9th annual event coming soon!
Our 8th annual event was swum on September 23rd, 2017. Thanks to all the swimmers, sponsors, and volunteers that made the event possible.
Results can be found here:
Age Group Results
Overall Results – 1/2 Mile
Overall Results – 1 Mile
Overall Results – 2 Mile
Videos
3rd Annual Keller Swim Swim


7th Annual Keller Cove Swim #1


7th Annual Keller Cove Swim #2